The Voices in My Head
A few weeks ago, Tim and I set out for an adventure. We planned for months, scheduling airplanes flights, hotels, and rental cars. We secured childcare and organized our children's crazy and hectic schedules. There was an entire room of our house overrun with zip lock bags packed for each activity they had: soccer, baseball, diving, and school projects. After months of planning and worrying, somehow it all came together and we were off. Off to Baptiste Power Yoga Level One training in Sedona, Arizona.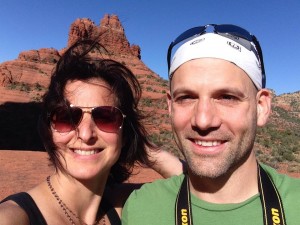 I had learned about the Level One training from my best friend who had gone to the program. I could tell the experience was something special for her. I was in awe of her presence. The way she guided me through random situations, helped me to get clear with my thoughts and frustrations going on in my life. I wanted what she had. But of course, it was hard to imagine actually being able to go. The excuses came up time and time again. It was too expensive I would tell myself, it was too many days away from work and family. It's always so easy to find reasons NOT to do something.
But then late last year, Tim and I were talking about planning a vacation; maybe a trip to the Costa Rica's Beaches and jungles or maybe a trip to Europe. You know… a nice, normal, relaxing vacation. But then one night Tim suggested we both do the Baptiste Power Yoga Level One Training, and that would be our vacation. Well, vacation may not be the correct word for it. Exhausting, challenging, emotionally draining are all words that could describe it. But mind blowing, awe inspiring, uplifting, soul searching, and life changing are how I've come to appreciate it now. The week of training is intense. The day was packed full from 7AM to 10PM. There was the actual physical asana, learning and teaching the Baptiste method and then there was the "self-inquiry".
Even before I went to Sedona, I knew my mind had the tendency to race 100 miles an hour doing 3 things at once. I had identified this as a "problem" that I hoped the training would help me "fix". But during my inquiry something unexpected became clear to me; I like the voices in my head. This may sound strange at first, but let me explain. The voices have become my constant companion. And in many ways they serve me well. They help me get through my busy schedule, constantly trying to figure out what to do first what can wait and what can be ignored. They plot out stories to get me out of doing things when I decide that I can't or just don't want to be bothered with one thing or another. They are my sword and my shield protecting me from the rougher edges of life. I began to realize that if I were to slow down and stop the voices I would really have to face who I am and maybe, just maybe I wouldn't like that person. Maybe I would be fearful of hurting other people or not being liked or not being good enough. That would be the price of quieting the voices in my head.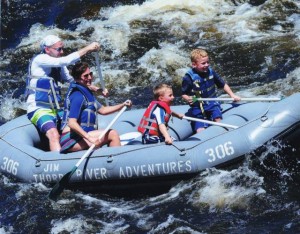 By letting go of the voices, I realized that I could actually be present in my life. I could be a more authentic version of myself. I could focus more on the people I love the most. I could look people in their eyes and really hear what they have to say.
I have now come to understand that the voices will always be here with me. But now have the choice to acknowledge them, or let them pass by like traffic on a highway. I accept that living outside the voices is fearful, but know that it's worth it because of the rewards I can get from living that way.
This past weekend my family went camping. When I was with my children, I was with my children, I heard them, I saw them and I was present with them. It was the first time in a long time that I allowed myself to truly enjoy them.
So this journey I am on will continue, some times I will fall off and the voices will take over but I now have the confidence and tools to use to acknowledge them and to make a choice. I can choose to live an authentic and present life or not.